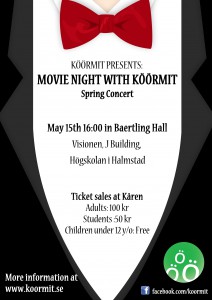 Köörmit will be welcoming this summer with an afternoon filled with movie themed music.
You can get the tickets at Halmstad Student Union (A-F building, connected with Trade Center) or from any member of Köörmit. We also accept payments through Swish: 123 693 17 86. Don't forget to add your name and phone number if you choose to use Swish. It will be possible to buy tickets at the concert day, that is if they are not sold out by then.
The tickets price is 100 SEK and children under the age of 12 get to join free. The student tickets is 50 SEK, with the condition of having a student ID, regardless of university
The concert will be held in Baertlinghall, J-building (Visionen). Its Right across the University library entrance.
Hope to see you there!
For further information or any questions you are welcome to contact us at koormit@gmail.com. You can also visit our Facebook page Köörmit.